Welcome






Welcome to the Rock Lee's Springtime of Youth Wiki, a wiki dedicated to everything about the anime/manga series, Rock Lee's Springtime of Youth, Rock Lee & His Ninja Pals, or Rock Lee no Seishun Full-Power Ninden that anyone can edit. Rock Lee's Springtime of Youth has been published in Saikyo Jump since 2010. Please help us by creating or editing any of our articles! We currently have 19,836 edits to 792 articles and 1,361 images on this wiki, since April 2, 2012.


Navigation

Administrators • Requests for Rollback Rights •

• Requests for Adminship • New Pages • Categories
Notifications
Apr 22, 2012: We commemorate our 100th article, thanks to everyone who contributed!!
Apr 30, 2012: This wiki became the redirected site of Rock Lee Wiki. So from now on, you can type rocklee.wikia.com to come here!!
May 26, 2012: We want to commemorate our 2000th edit!!
June 24, 2012: We want to commemorate our 2500th edit!!
July 2, 2012: This wiki became the redirected site of Rock Lee Springtime Wiki. So from now on, you can type rockleespinoff.wikia.com to come here!!
April 17, 2014: We want to commemorate our 1000th image!!
Characters
Random Chapter
"Honey, I Shrunk Rock Lee!!"
After a long and hard mission, Team Guy returns to Konoha. An exhausted Tenten asks Lee for a soldier pill, but before he gives one to her, Choji Akimichi, who had been rushing to meet Shikamaru and Ino at a BBQ resturant, bumps into him, knocking them both to their feet. Once they regain themselves, Choji picks up a small bag that he had dropped when he bumped into Lee, Lee also realizing he dropped the bag of soldier pills, retrieves his bag. After Team Guy eats the soldier pills, they realize that they have shrunk. Lee insists that the pills they ate were soldier pills, but when they inspect the bag, they realize that it has the Akimichi Clan's crest on it. Neji realizes that they must have eaten the pills that reverse the Akimichi Clan's signature body enlargement techniques. He deduces that when Lee bumped into Choji, their bags were switched, causing Team Guy to consume Choji's pills.

...Read more
Random Episode
"Episode 3"
A Competition with the Genius Ninja, Neji
After Lee defeats several enemy shinobi, he begins to feel as not even Neji could compete with his strength. However, the leader of the group appears and Lee begins to feel nervous, but the foe topples over, revealing Neji who had defeated him. Comparing his quantity with Neji's quality, Lee becomes saddened and lables his own achievement as inferior.

...Read more

Tenten's Must-Win Battle
While on a mission, Lee acts unsightly infront of Tenten, angering her. Tenten reminds him of the "Ladies first" phrase, but Lee and Neji fail to understand. Later, Tenten fights against several bandits as Lee and Neji watch, telling her she did not need their help. However, Tenten calls her teammates for support when the leader of the group appears, but finds them resting. Though Tenten is able to defeat the bandits, she again reminds her teammates to be more considerate. However, one more her teammates fail to understand, angering her. In her anger Tenten leaves, but Lee calls out to her, saying they treated her in such manner because they knew she was strong. Tenten leaves no reply and vanishes.

...Read more
Random Jutsu
Eight Gates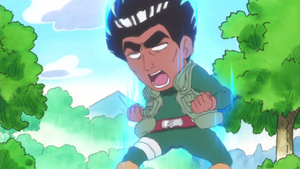 Eight Gates (八門, Hachimon) is a jutsu that releases limiters inside the body to access incredible power. There are eight stages, although the stronger the user becomes, the more dangerous.
Sharingan Legend Wiki
New Pages on Sharingan Legend Wiki
Kenjutsu - 78.173.67.13 - 2021/01/12 21:00
78.173.67.13: Created page with "Kenjutsu (剣術, literally meaning: Sword Technique) pertains to techniques that entail the use of swords, whether the users be shinobi, or samurai. Kenjutsu can be used...
Pakkun - - 2020/11/15 17:24
Afstester: Created page with "'''Pakkun''' (パックン, ''Pakkun'') is a miniature pug, and the smallest of [https://sharinganlegend.fandom.com/wiki/Kakashi_Hatake Kakashi Hatake] 's ninken." '''Pakkun''' (...
Community content is available under
CC-BY-SA
unless otherwise noted.