Konohamaru Sarutobi (猿飛木ノ葉丸, Sarutobi Konohamaru) is one of the main supporting characters of the series. He is a member of Team Ebisu.
Appearance
Konohamaru's eye and hair color are both brown. He has spiky hair and wears a forehead protector around his forehead. He usually has blush marks on both of his cheeks. 
Personality
Abilities
Ninjutsu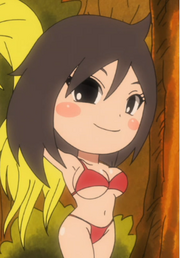 After meeting Naruto, much of his arsenal became comprised of sexy techniques he learned from or based off Naruto's. He did however learn the high-level Shadow Clone Technique.
Rasengan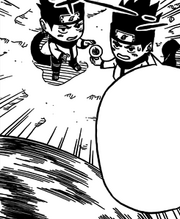 According to the Naruto series, sometime during Part I (Part II in the anime), Naruto taught Konohamaru how to use the Rasengan. In the manga, his version of the Rasengan is like Naruto's, performed using a shadow clone to control the power of the chakra.
Other Skills
Konohamaru's skills included some cloaking techniques and transformation techniques.
Plot