Kimimaro

Kanji

君麻呂

Rōmaji

Kimimaro

Characteristics

Gender

Male

Hair Color

White

Eye Color

Green

Status

Occupation
Affiliation

Jutsu

Media

Manga Debut

Sasuke Uchiha!

Anime Debut

Episode 31
Kimimaro (君麻呂, Kimimaro) was a shinobi from Otogakure.
Background
Kimimaro was good friends with Jūgo and was the only one who could stop him from going berserk. Some point in the past, he had also fought Lee and died.
Appearance
Kimimaro was characterised by his pale skin, vivid green eyes, two scarlet dots on his forehead and shoulder-length white hair, which he wore divided down the middle on his head (distinguished by an atypical 'zigzag' hair parting) with two separate partings on either side of his face. Kimimaro wore a specialised version of the traditional Oto-nin ensemble, consisting of a light lavender, loose-fitting, long-sleeved, zip-up shirt, black pants cut off around mid-calf, bandages wrapped around his ankles, traditional shinobi sandals, and a purple, rope-like belt tied in an inverted bow around his waist. He also wore two red, tube-like hair ornaments; one on either side of his head, securing two locks of his silvery-white hair. His Cursed Seal is applied at the base of his throat, where it is a circular pattern of three curved lines.
Abilities
Kimimaro's skills were great enough that he was accepted by Orochimaru, one of the Sannin. Another testament to his skills was how Orochimaru entrusted him with a cursed seal.
Shikotsumyaku
It was shown in a flashback that Kimimaro's abilities came from his kekkei genkai, Shikotsumyaku, which allowed the user to manipulate their own skeletal structure as a means of combat. Kimimaro used this ability to wield his bones as weapons in battle.
Cursed Seal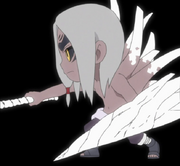 Kimimaro was given a cursed seal, which granted him tremendous power. When in his Level 2 form, Kimimaro's appearance was similar to that of a dinosaur, with dark grey skin, and six large bone spines protruding out of his back.
Trivia
According to the Naruto series, Kimimaro comes from a clan that allows him to perform Shikotsumyaku.
Community content is available under
CC-BY-SA
unless otherwise noted.