Hizashi Hyūga

Kanji

日向 ヒザシ

Rōmaji

Hyūga Hizashi

Characteristics

Gender

Male

Hair Color

Black

Eye Color

White

Status

Specialization
Affiliation

Konohagakure

Rank
Family

Hiashi Hyūga (Brother)
Hanabi Hyūga (Niece)
Neji Hyūga (Son)
Hinata Hyūga (Niece)

Media

Manga Debut
Anime Debut

Voice Actors

Japanese
English
Hizashi Hyūga (日向ヒザシ, Hyūga Hizashi) was a jonin-level shinobi of Konohagakure's Hyūga clan.
Appearance
Hizashi was a mirror image of his brother Hiashi with the exception of having been branded with the Hyūga Main Family Juinjutsu on his forehead. He had long, black hair and featureless, white eyes — the latter trait shared by all members of his clan. He wore a simple black outfit with mesh armour underneath, his black forehead protector, and an obi around his waist.
Background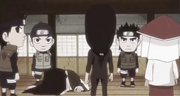 According to Guy, thirteen years ago there was nearly a war between Konohagakure and Kumogakure over the Konoha's Hyūga clan and their Byakugan. However Hizashi sacrificed himself to stop the war protecting both his clans and the two villages, resulting his death.
Trivia
Hizashi's name means 'sunlight', or 'rays of the sun'.
Community content is available under
CC-BY-SA
unless otherwise noted.