Hashirama Senju

Kanji

千手柱間

Rōmaji

Senju Hashirama

Alias

First Hokage

Characteristics

Gender

Male

Hair Color

Black

Eye Color

Black

Status

Occupation
Kekkei Genkai

Wood Release

Affiliation

Konohagakure

Rank
Family

Tobirama Senju (Brother)

Tsunade (Granddaughter)

Nature

Media

Manga Debut
Anime Debut
Hashirama Senju (千手柱間, Senju Hashirama) was the founder and the first leader of Konohagakure.
Background

At a certain point in time, Hashirama and his brother, Tobirama Senju, fought against Madara Uchiha. Years later, Hashirama and Madara came in to good terms and founded Konohagakure and became the First Hokage.
Appearance
Hashirama was a tanned skin man, dark eyes and waist-length black hair typically styled in a centre-parted fringe that framed his face. His attire took the form of the standard shinobi dress of his era, consisting of dark red traditional armour — similar to that of samurai — worn over a simple black suit. This armour was constructed from numerous metal plates, formed into multiple protective guards along his body, in particular: chest, shoulders, thighs and forearms. This clothing was accompanied by his village's forehead protector.
Personality
His personality is unknown in the spin-off, however it is implied that since he is the founder and the first leader of Konohagakure he has great leadership skills in maintaining peace in his village during his time.
Abilities
As the first leader of his village it is implied that he was strong during his time. He is considered to be powerful as he was strong enough to fight against Madara, the head of the Uchiha Clan.
Ninjutsu
Nature Transformation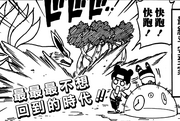 According to Tenten, Hashirama possessed the Wood Release, a kekkei genkai that allows the user to create wood and manipulate it to the users will.
Community content is available under
CC-BY-SA
unless otherwise noted.